Leatherneck Challenge Coin
Perhaps some of you saw my letter in the March Leatherneck Magazine, or the article in the Connecticut Post, praising the efforts of a young boy that raised money to send footballs to our troops deployed in Iraq and Afghanistan. Nick Fatse put a smile on the face of Marines and Soldiers that are in harm's way.
When the Marine Corps Association saw my note about this young boy, they sent me a Leatherneck Challenge Coin to present to him. I have that and a Commendation Award Certificate from our MCL Detachment # 1129. When I contacted Nick's father, we decided that it would be best to present the Challenge Coin and certificate to Nick at his school. When I talked to Nick's principal, she asked me to hold off the presentation to the day they reserve for awards which is at the end of the school year in June. The tentative date is June 23 (Thursday) from 9:30-11:30.
The problem that has cropped up now is I will be out of the country on that date. I'd like to ask for one or more of you to fill in for me and present the awards to Nick. Nick attends Middlegate elementary school in Newtown, CT and is a forth grader.
I will get the Challenge Coin, a copy of the March Leatherneck, the MCL Detachment Commendation Certificate and contact info for Nick's father and school principal to you. The MCA has also asked me to get some pictures as they plan to run an article on it in Leatherneck Magazine.
Semper Fi
Jack LaBrecque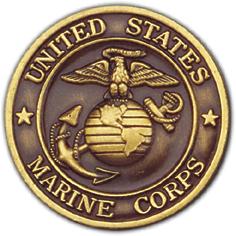 USMC Challenge Coin
Military challenge coins are also known as military coins, unit coins, memorial coins, unit challenge coins, or commander's coin. The coin represents affiliation, support or patronage to the organization minted on the coin. The Challenge Coin is a treasured and respected representation of the organization minted on the coin.
Throughout the Corps, one can find these medal artifacts displayed proudly by Marines at their desks and in their offices. Some are simple and colorless. Others are ornate, filled with intricate designs and etchings. All of them have a story behind them.
Such is the case for Nick Fatse. This young man wanted to show the troops that are deployed in harm's way that they have the support and admiration of America's school children. He came up with his idea of "Footballs for Freedom" and worked hard to make it the success it turned out to be.
When Leatherneck Magazine and the Marine Corps Association became aware of what he had done, they sent this challenge coin to present to him. It's an honor to present the coin to him and we want to extend the grateful thanks of all the Marines, Soldiers, and Sailors that Nick's footballs brought a smile to their face and made their time in harm's way a little more like home.
Semper Fidelis Nick
Nick's Letter Nick's Overview Letter Troops with Footballs
Footballs for Freedom photos Coin Presentation